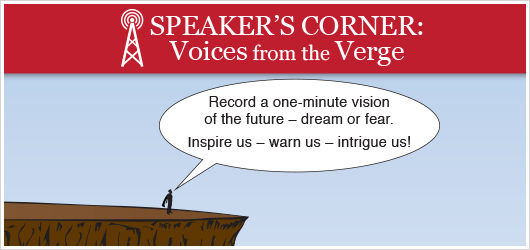 Speaker's Corner: Voices from the Verge
For centuries, Speaker's Corners have welcomed people from all walks of life to speak, debate, and argue openly. We hope the Forum's virtual Speaker's Corner will entice you to do the same.

If you'd like to record a one-minute vision of the future – dream or fear – please visit the Speaker's Corner booth on the first floor of the CEI, just outside of room 1102. It will be open all day. Inspire us – warn us – intrigue us!

We'll be sharing a selection of these at the Closing Plenary on May 2, and will upload a wider variety to the Conference website for those interested in continuing to explore these ideas once the Conference has ended. We look forward to hearing from you!