The Threatening Future of Why
Powerpoint Slides
Download Threatening Future of Why PowerPoint
Susan Awbrey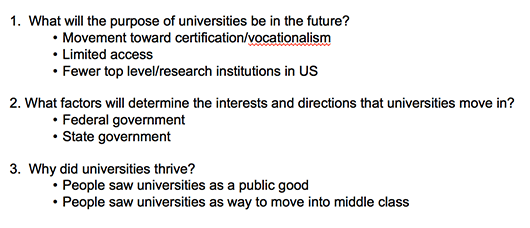 Ollivier Dyens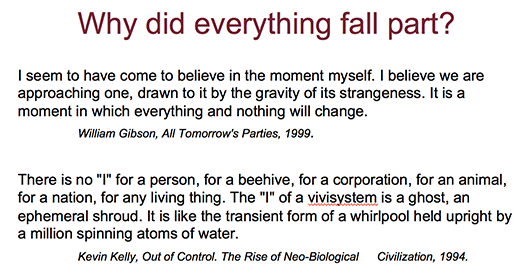 Joy Mighty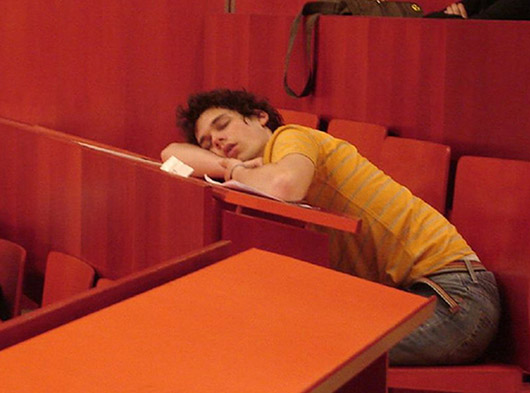 Chitra Rangan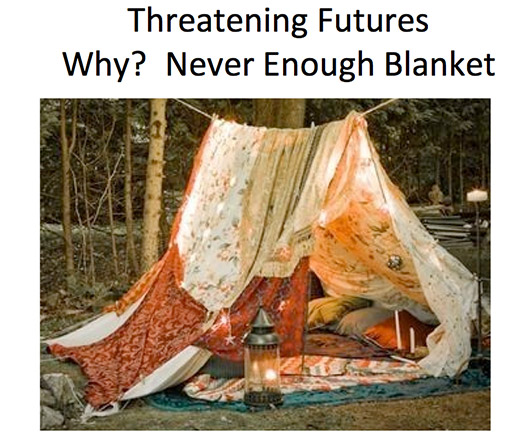 The Promising Future of Why
Powerpoint Slides
Download Promising Future of Why PowerPoint
Susan Awbrey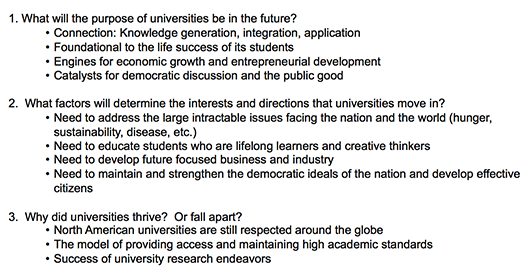 Ollivier Dyens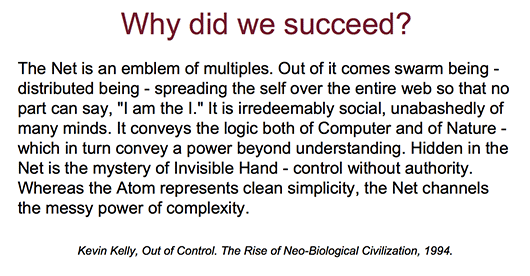 Joy Mighty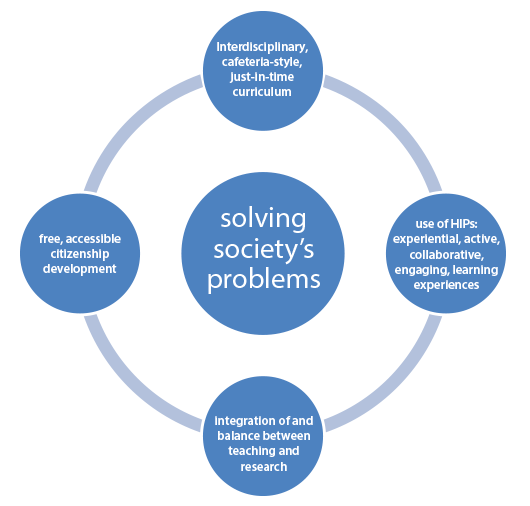 Chitra Rangan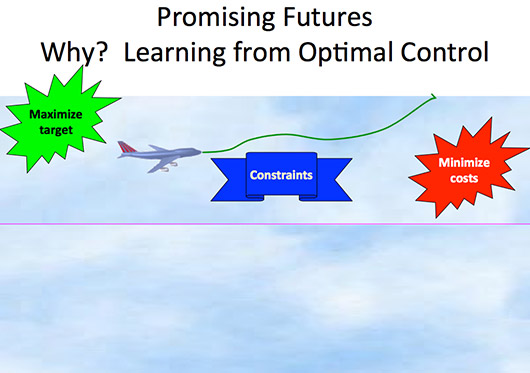 Forum Panelists Bios
Susan Awbrey
Interim Provost Dr. Susan M. Awbrey has been a faculty member and administrator in higher education for 28 years. She joined Oakland University in 1991 and has been an integral member of the Oaklan University community, serving as a faculty member, department chair, vice provost, and senior associate provost prior to her assuming her role as interim provost. Dr. Awbrey's Ph.D. combined the study of education, psychology, neuroscience, and mathematics to explore ways of unlocking human creativity. As a professor of education, her research focuses on effective organizational design, development, and change in higher education institutions. She has authored and co-authored numerous publications and conference papers including the recent edited book, Integrative Learning and Action, which includes a series of essays by prominent philosophers, educators, scientists, organizational theorists, and poets that speak to a desire to find ways of learning , knowing and leading that draw on the full spectrum of our intelligences to create a wiser, more collaborative global society. Prior to joining Oakland University, Dr. Awbrey was an administrator and faculty member at University of Illinois, Michigan State University, and the University of Texas Medical Branch.

Ollivier Dyens
Ollivier Dyens is an award-winning author whose most recent book is Enfanter l'inhumain: le refus du vivant, published at Les Éditions Triptyque. His previous essay, La condition inhumaine, essai sur l'effroi technologique, was published in France by Flammarion. He is also the author of Metal and Flesh: The Evolution of Man: Technology Takes Over, published by MIT Press. His digital artwork has been exhibited in Brazil, Canada, France, Venezuela, Germany, Argentina and the United States. As Vice-Provost, Teaching and Learning, Ollivier Dyens oversees all aspects of curriculum development and program appraisal, and is responsible for the promotion of outstanding teaching and learning at Concordia University.

Joy Mighty
Before joining Carleton as its first Associate Vice-President (Teaching and Learning), Dr. Joy Mighty was the Director of the Centre for Teaching and Learning at Queen's University and a professor in its School of Business. She has a wealth of experience and expertise as a teacher, educational developer, researcher and consultant, with a special interest in equity and diversity issues. Dr. Mighty's primary research interests include issues related to the management of workplace diversity, the dynamics of diversity in teaching and learning, workplace effects of family violence, and organizational development and change. She was the inaugural Chair of the Educational Developers' Caucus of the Society for Teaching and Learning in Higher Education (STLHE) and is a past-president of that organization. In 2010, Dr. Mighty co-authored Taking Stock: Research on Teaching and Learning in Higher Education published by McGill-Queen's Press.

Chitra Rangan
Since joining the University of Windsor in 2004, Department of Physics Head and Associate Professor Dr. Chitra Rangan has been a steadfast advocate of active and research-based learning and of the importance of communications skills in STEM. She teaches a wide variety of students ranging from non-major undergraduates to advanced graduate students. Some of the more innovative classes that she has taught are the Multimedia course Technical Communication Skills (fourth- year Physics), and the advanced graduate Quantum Control course taught via videoconference in three locations (two countries and two time-zones). In 2011, Dr. Rangan was one of three recipients of the inaugural Faculty of Science Roger Thibert Award for Teaching Excellence. She has been a major contributor to community outreach initiatives in Windsor, the organizer and faculty advisor for Science Rendezvous Windsor since 2010, and most recently, developed the Physics Lesson Packs for high school teachers. Dr. Rangan also earned the teaching certificate, "Michigan Teaching Fellow," from the University of Michigan in 1999.