Keynote Speakers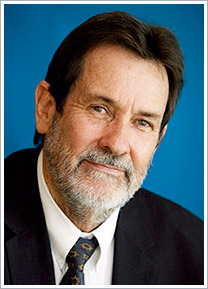 Emeritus Professor Geoff Scott

Emeritus Professor
Learning Leaders in Times of Change
In this session Dr. Scott will seek to highlight the key themes that have emerged during the conference and note the ways in which they relate to each other using an internationally validated Quality & Standards Framework for Learning and Teaching in higher education. He will then locate these within the broader higher education Learning and Teaching trends underway around the world along with the key themes emerging from his Australian National Senior Teaching Fellowship on ĎAssuring the Quality of Achievement Standards in Higher Educationí.
Dr. Geoff Scott is Emeritus Professor of Higher Education and Sustainability at the University of Western Sydney, Australia. From 2004-12 he was Pro Vice-Chancellor (Quality) and then Executive Director of Sustainability at UWS. He is actively involved in the Sustainable Futures Leadership Academy, helped establish RCE-Greater Western Sydney & with Canada's Michael Fullan is author of the widely used book Turnaround Leadership for Higher Education and the 2014 US NPDL White Paper Education Plus. In 2013 he completed an international study funded by Australia's Office for Learning & Teaching of Turnaround Leadership for Sustainability in Higher Education with Daniella Tilbury, Leith Sharp and Liz Deane and another project for OLT with Kerri-Lee Krause and colleagues in 11 Australian universities on Inter-university moderation and the assurance of higher education subject and program achievement standards. In 2008 he led the ALTC study of 500 Learning Leaders in Times of Change with colleagues from ACER. In 2010 he led the national survey of sustainability in the curriculum of Australia's universities.
He is a former member of the Board of Directors of the Australian Council for Educational Research, a Fellow of the Australian College of Education, a member of TEQSA's Panel of Experts and a higher education auditor in many countries. He is currently National Senior Teaching Fellow with Australia's Office for Learning and Teaching. In 2007, he was the Recipient of the Australian Higher Education Quality Award.
Individual Session / Conference Evaluation
Please provide us with feedback to help us plan for future conferences.